WATCH LIVE SERVICE
Solemn Liturgy of the Lord's Passion by Basilica of the National Shrine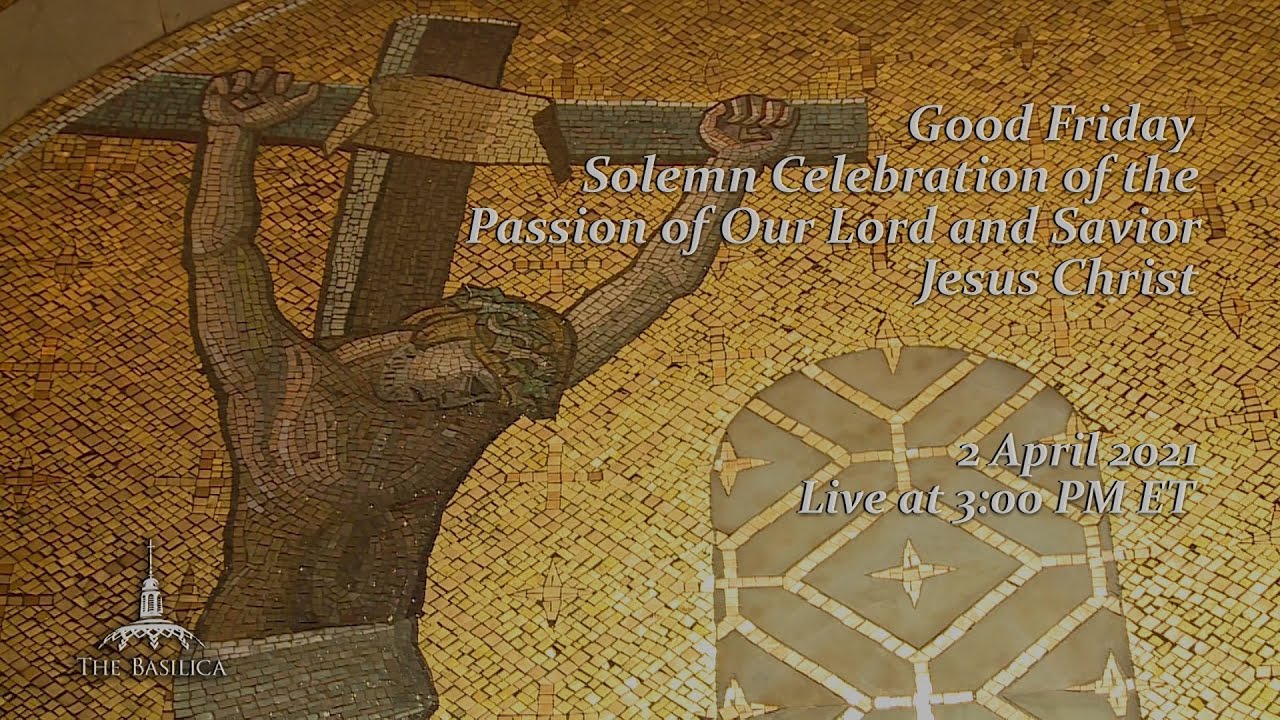 Solemn Liturgy of the Lord's Passion by Basilica of the National Shrine 
The Basilica of the National Shrine of the Immaculate Conception in Washington D.C., is a Catholic church dedicated to the Blessed Mother, patroness of our nation. It is a place of worship, pilgrimage, evangelization, and reconciliation. Mary's Shrine invites people from across the country and beyond to share in Christ's ever-living presence.
Watch Live
Catholic Daily Mass Reading Friday 2nd April 2021 – Good Friday
Daily Reading for Friday April 2, 2021
Reading 1, Isaiah 52:13-53:12
Responsorial Psalm, Psalms 31:2, 6, 12-13, 15-16, 17, 25
Gospel, John 18:1-19:42
Reading 2, Hebrews 4:14-16; 5:7-9
Solemn Liturgy of the Lord's Passion by Basilica of the National Shrine
Reading 1, Isaiah 52:13-53:12
13 Look, my servant will prosper, will grow great, will rise to great heights.
14 As many people were aghast at him — he was so inhumanly disfigured that he no longer looked like a man-
15 so many nations will be astonished and kings will stay tight-lipped before him, seeing what had never been told them, learning what they had not heard before.
12 Hence I shall give him a portion with the many, and he will share the booty with the mighty, for having exposed himself to death and for being counted as one of the rebellious, whereas he was bearing the sin of many and interceding for the rebellious.
Responsorial Psalm, Psalms 31:2, 6, 12-13, 15-16, 17, 25
2 turn your ear to me, make haste. Be for me a rock-fastness, a fortified citadel to save me.
6 you hate those who serve useless idols; but my trust is in Yahweh:
12 I have no more place in their hearts than a corpse, or something lost.
13 All I hear is slander — terror wherever I turn — as they plot together against me, scheming to take my life.
15 every moment of my life is in your hands, rescue me from the clutches of my foes who pursue me;
16 let your face shine on your servant, save me in your faithful love.
17 I call on you, Yahweh, so let disgrace fall not on me, but on the wicked. Let them go down to Sheol in silence,
Spread the Gospel today. Share this Daily Devotional Message to your loved Ones, friends and families. Thank you and God bless you abundantly. Use the Share Button Below