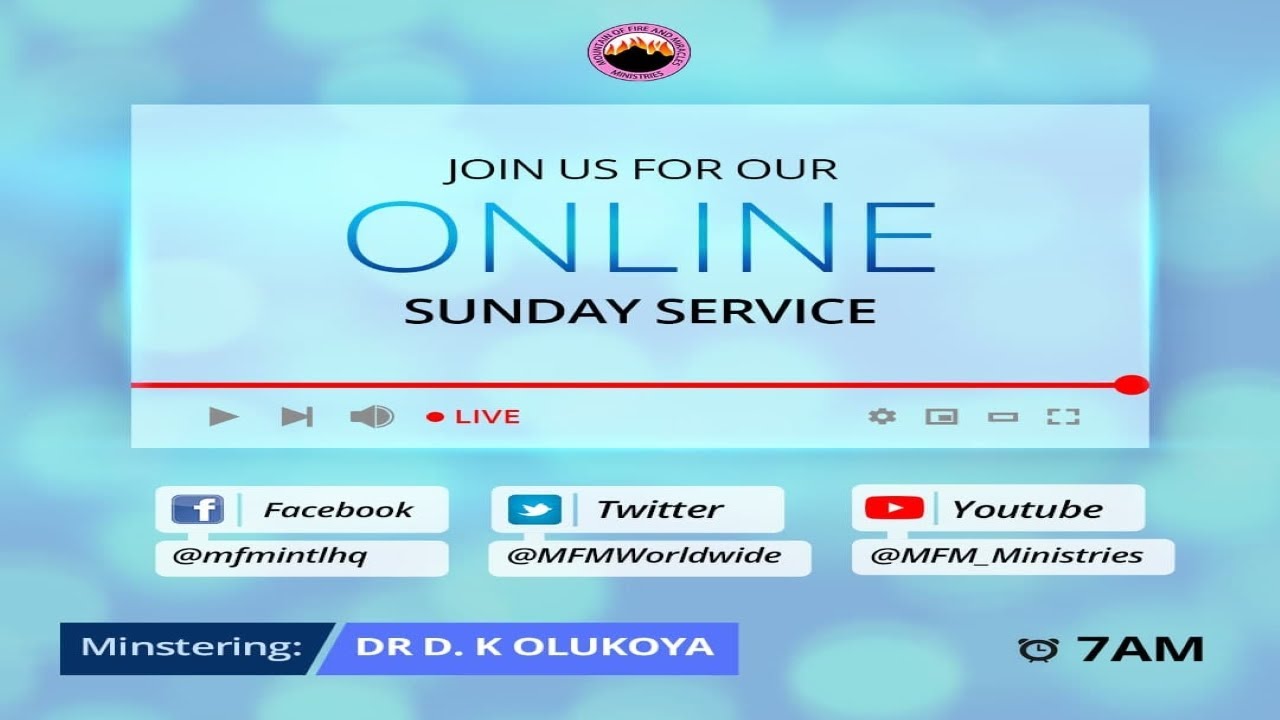 MFM Easter Sunday Service 4th April 2021 With Dr D.K Olukoya
Welcome to MFM Easter Sunday Service 4th April 2021 With Dr D.K Olukoya, the G.O and Founder of Mountain of Fire and Miracle Ministries International.
Watch Live Service Below;
MFM Easter Sunday Service 4th April 2021 With Dr D.K Olukoya
MFM Mountain Top Life Devotional 4th April 2021 – Standing on God's Promises (1)
Fire Scripture(MFM Devotional 4th April 2021)
1 Kings 8:54-56
Memory Verse
2 Cor. 1:20 – "For all the promises of God in him are yea, and in him Amen, unto the glory of God by us."
MFM Devotional 4th April 2021 Outline
Many believers miss out on the wonders and blessings of God's promises, year in year out. The reason is that some are ignorant of these great and precious promises as well as the blessings attached to them while others do not know how to claim and convert them to useful realities in their lives.
Whichever of these two categories you belong, you are missing a lot and need help. One apparent consequence of not claiming and benefitting from God's promises is that the individual will live a life that is lower and less dignifying than what God has ordained for His children. God's promises are to be appropriated and enjoyed by His children as their covenant right.
It will therefore be improper to deny yourself of such a great opportunity or to allow the enemy to rob you of them through ignorance or unbelief. The Bible is a book of exceeding great and precious promises. It contains promises on good health, longevity, fruitfulness, financial prosperity, peace, joy, progress, promotion, marital bliss, ministerial success, victory, dominion, security and so on. God exalts His word above His name.
His promises are yea and amen, and He abides faithful forever. Beloved, if you have not been claiming and enjoying the fulfilment of God's promises, you should do a personal check. Are you a born again child of God? Are you living and walking in His will? Do you read and live by the word of God daily?
Are you identifying God's promises and praying to God specifically about them, especially in that area of your need? If your answers to the foregoing questions are not in the affirmative, you have to turn a new leaf today.
God is ever ready and willing to fulfil His promises. You need to do your part of the bargain too
Motivational Quote
From one end of the Bible to the other, God assures us that He will never go back on His promises.
Prophetic Word
The promises of God for your life will become great testimonies, in the name of Jesus.
Thanks for joining MFM Easter Sunday Service 4th April 2021 With Dr D.K Olukoya
Spread the Gospel today. Share this Daily Devotional Message to your loved Ones, friends and families. Thank you and God bless you abundantly. Use the Share Button Below