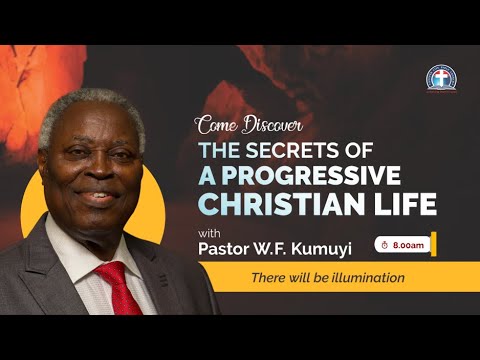 Deeper Life Sunday Live Service 8th November 2020 Pastor Kumuyi
You are watching 8th November 2020 Sunday Worship Service of Deeper Christian Life Ministry. Pastor W. F. Kumuyi to minister in partnership with the Holy Spirit.
Take heed unto thyself, and unto the doctrine; continue in them: for in doing this thou shalt both save thyself, and them that hear thee.
Join Us LIVE as Harvest of Blessings awaits you
Watch Below;
Deeper Life Sunday Live Service 8th November 2020 Pastor Kumuyi
Read DCLM Daily Manna 8th November 2020 Sunday Devotional By Pastor W.F Kumuyi
TOPIC: Never Incur God's Wrath
TEXT: Ezekiel 21:1-17
KEY VERSE:
"And say to the land of Israel, Thus saith the LORD; Behold, I am against thee, and will draw forth my sword out of his sheath, and will cut off from thee the righteous and the wicked." – (Ezekiel 21:3)
MESSAGE:
Johnson had to go on a journey for two weeks. He lived alone with his five children as his wife travelled out for further studies. He left home with strict instructions to his children to take care of the house and tend the garden. They had enough food in the store and could eat what they wanted. But when he came back, he discovered that the house was not only terribly messed up, the garden was also overgrown with weeds and nearly all the livestock was diseased. He had to punish the children, especially the eldest who could not guide and correct the younger ones while he was away.
Our passage today is filled with the declaration of God's fearful judgment against Israel. The Lord could no longer tolerate their sins anymore and was ready to cut off both the righteous and the wicked.
Our Daily Bread 8th November 2020 Sunday Devotional – People Forget
Why would such a fearful declaration go forth? Why should the righteous be punished with the wicked? Perhaps, they were obviously silent in the face of evil by the wicked. If the righteous keep quiet in the face of wickedness; if they fail to reprove iniquity; if they are too shy and tolerant of sins or allow sinners to thrive in their sins, would they not be punished? God expects the righteous as watchmen to "blow the trumpet" and warn the wicked against their ungodly acts. The righteous are God's instruments of change and our righteousness should be impactful, non-judgmental and burden-bearing, and should be targeted at saving others from their wickedness. Anything short of this will place us on the same platform as the selfish and wicked sinners.
THOUGHT FOR THE DAY:
Our righteousness through Christ should reform the wicked.
THE BIBLE IN ONE YEAR:
Jeremiah 51-52
Deeper Life Sunday Live Service 8th November 2020 Pastor Kumuyi
(Visited 56 times, 1 visits today)