WATCH LIVE SERVICE
Catholic Monday Mass Today Online 7th December 2020 Archdiocese of Singapore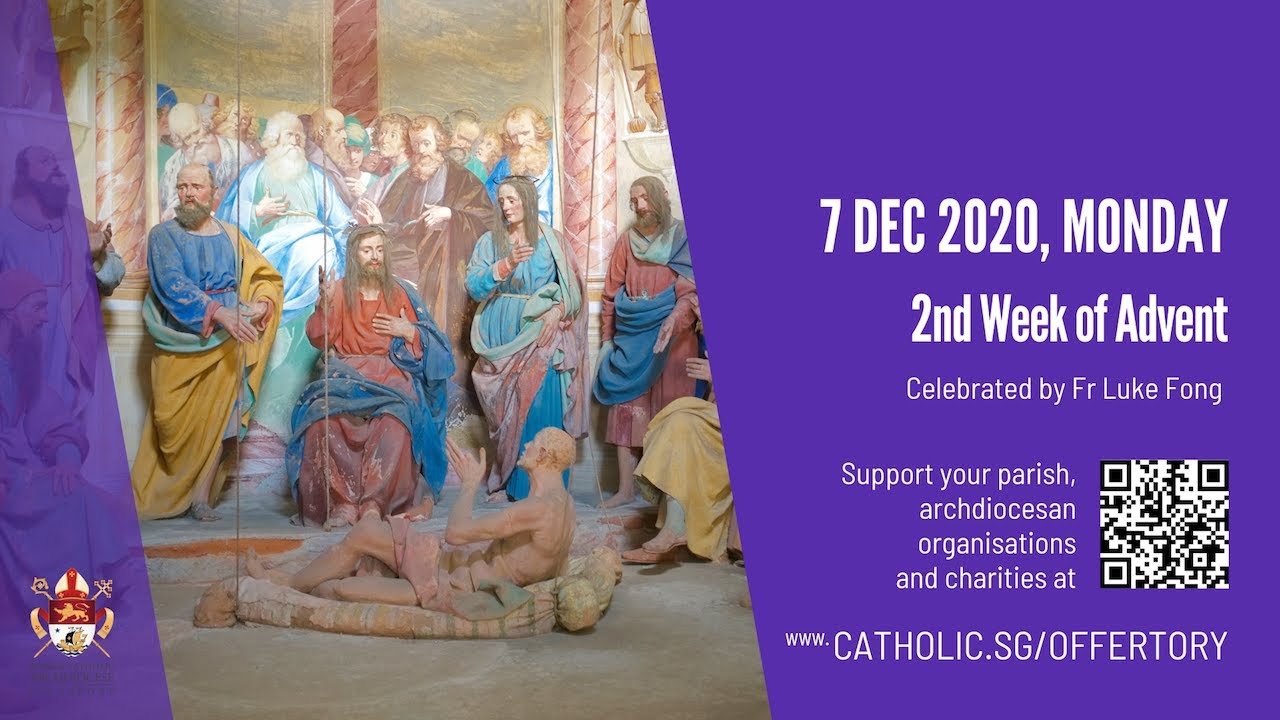 Catholic Monday Mass Today Online 7th December 2020 Archdiocese of Singapore
Monday, 2nd Week of Advent (7 Dec 2020)
at the Church of the Immaculate Heart of Mary, Singapore
The celebrant for Masses on our channel for Wednesdays to Sundays is Archbishop William Goh.
The Catholic Mass today is celebrated all around the world. Here in Singapore, we are pleased to provide online, daily Catholic Mass live or recorded in English to all Catholics and anyone interested in the Catholic faith. During Catholic Masses, it is not uncommon to hear a homily about Catholic teachings and Catholic answers to life's questions. The Holy Mass is beautiful and stems from Jesus. Expect Catholic prayers, Catholic hymns (Christian songs) that come from 2000 years of tradition and practice. All are welcome.
Catholic Monday Mass Today Online 7th December 2020 Archdiocese of Singapore
Watch Below;
Watch other Monday Mass;
Read Catholic Daily Mass Reading 7th December 2020 Online
Daily Reading for Monday December 7, 2020
Reading 1, Isaiah 35:1-10
Responsorial Psalm, Psalms 85:9-10, 11-12, 13-14
Gospel, Luke 5:17-26
Reading 1, Isaiah 35:1-10
1 Let the desert and the dry lands be glad, let the wasteland rejoice and bloom; like the asphodel,
2 let it burst into flower, let it rejoice and sing for joy. The glory of Lebanon is bestowed on it, the splendour of Carmel and Sharon; then they will see the glory of Yahweh, the splendour of our God.
3 Strengthen all weary hands, steady all trembling knees
4 and say to the faint-hearted, 'Be strong! Do not be afraid. Here is your God, vengeance is coming, divine retribution; he is coming to save you.'
5 Then the eyes of the blind will be opened, the ears of the deaf unsealed,
6 then the lame will leap like a deer and the tongue of the dumb sing for joy; for water will gush in the desert and streams in the wastelands,
7 the parched ground will become a marsh and the thirsty land springs of water; the lairs where the jackals used to live will become plots of reed and papyrus.
8 And through it will run a road for them and a highway which will be called the Sacred Way; the unclean will not be allowed to use it; He will be the one to use this road, the fool will not stray along it.
9 No lion will be there, no ferocious beast set foot on it, nothing of the sort be found; it will be used by the redeemed.
10 For those whom Yahweh has ransomed will return, they will come to Zion shouting for joy, their heads crowned with joy unending; rejoicing and gladness will escort them and sorrow and sighing will take flight.
Catholic Monday Mass Today Online 7th December 2020 Archdiocese of Singapore
Responsorial Psalm, Psalms 85:9-10, 11-12, 13-14
9 His saving help is near for those who fear him, his glory will dwell in our land.
10 Faithful Love and Loyalty join together, Saving Justice and Peace embrace.
11 Loyalty will spring up from the earth, and Justice will lean down from heaven.
12 Yahweh will himself give prosperity, and our soil will yield its harvest.
13 Justice will walk before him, treading out a path.
Spread the Gospel today. Share this Daily Devotional Message to your loved Ones, friends and families. Thank you and God bless you abundantly. Use the Share Button Below