WATCH LIVE SERVICE
Catholic Mass Today Online – Thursday 10th December 2020 Archdiocese of Singapore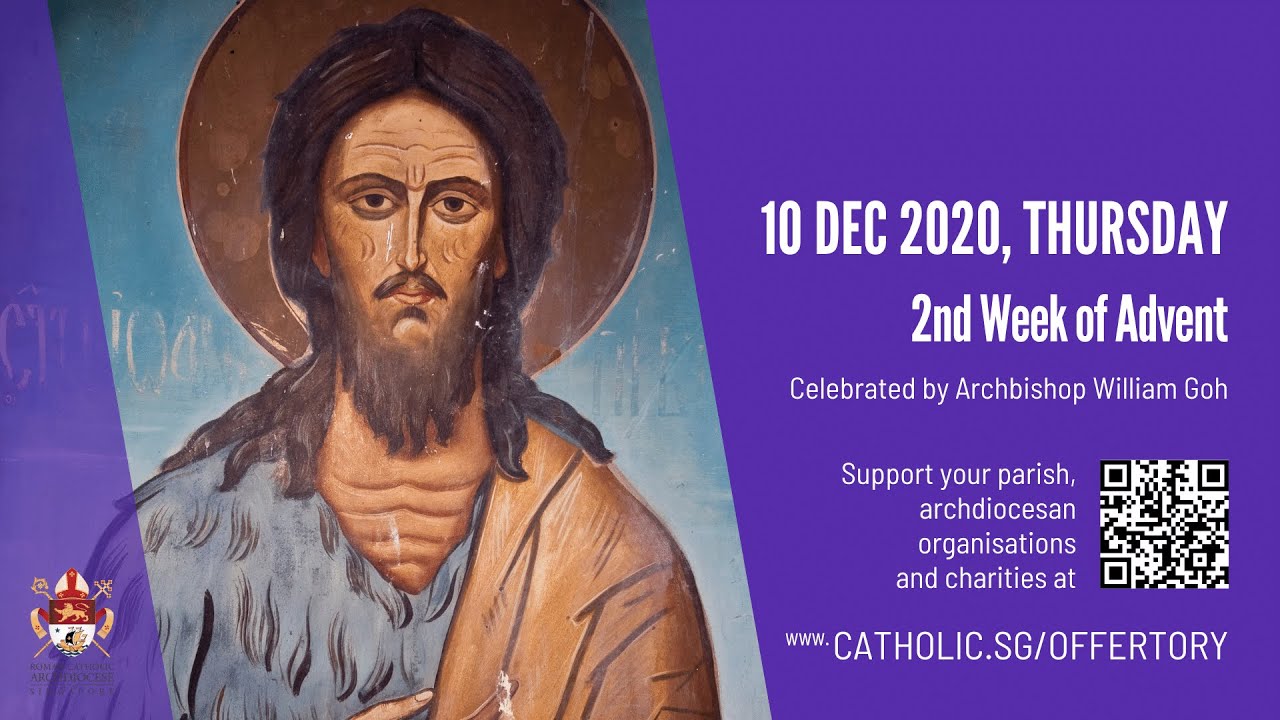 Catholic Mass Today Online – Thursday 10th December 2020 Archdiocese of Singapore
You are watching Catholic Weekday Mass Today Online – Thursday, 2nd Week of Advent 2020.
VIOLENCE OF THE KINGDOM
Thursday, 2nd Week of Advent 2020 (10 December 2020)
Mass Celebrated by Archbishop William Goh
Catholic Mass Today Online – Thursday 10th December 2020 Archdiocese of Singapore
The celebrant for Masses on our channel for Wednesdays to Sundays is Archbishop William Goh.
The Catholic Mass today is celebrated all around the world. Here in Singapore, we are pleased to provide online, daily Catholic Mass live or recorded in English to all Catholics and anyone interested in the Catholic faith. During Catholic Masses, it is not uncommon to hear a homily about Catholic teachings and Catholic answers to life's questions. The Holy Mass is beautiful and stems from Jesus. Expect Catholic prayers, Catholic hymns (Christian songs) that come from 2000 years of tradition and practice
Watch other Mass below;
Read Catholic Daily Mass Reading 10th December 2020 Online
Daily Reading for Thursday December 10, 2020
Reading 1, Isaiah 41:13-20
Responsorial Psalm, Psalms 145:1, 9, 10-11, 12-13
Gospel, Matthew 11:11-15
Reading 1, Isaiah 41:13-20
13 For I, Yahweh, your God, I grasp you by your right hand; I tell you, 'Do not be afraid, I shall help you.'
14 Do not be afraid, Jacob, you worm! You little handful of Israel! I shall help you, declares Yahweh; your redeemer is the Holy One of Israel.
15 Look, I am making you into a threshing-sledge, new, with double teeth; you will thresh and beat the mountains to dust and reduce the hills to straw.
16 You will winnow them and the wind will carry them off, the gale will scatter them; whereas you will rejoice in Yahweh, will glory in the Holy One of Israel.
17 The oppressed and needy search for water, and there is none, their tongue is parched with thirst. I, Yahweh, shall answer them, I, the God of Israel, shall not abandon them.
18 I shall open up rivers on barren heights and water-holes down in the ravines; I shall turn the desert into a lake and dry ground into springs of water.
19 I shall plant the desert with cedar trees, acacias, myrtles and olives; in the wastelands I shall put cypress trees, plane trees and box trees side by side;
20 so that people may see and know, so that they may all observe and understand that the hand of Yahweh has done this, that the Holy One of Israel has created it.
Spread the Gospel today. Share this Daily Devotional Message to your loved Ones, friends and families. Thank you and God bless you abundantly. Use the Share Button Below