WATCH LIVE SERVICE
Catholic Mass Today Online 9th December 2020 By Archdiocese of Singapore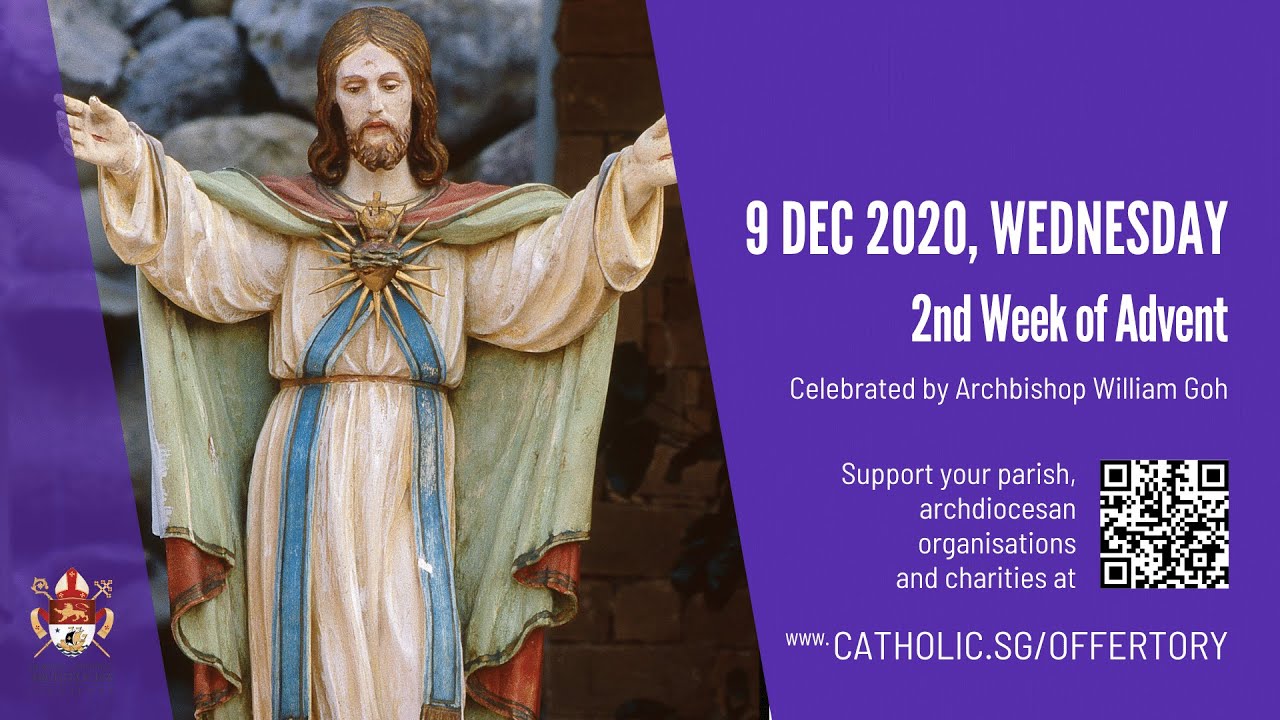 Catholic Mass Today Online 9th December 2020 By Archdiocese of Singapore
You are watching Catholic Weekday Mass Today Online – Wednesday, 2nd Week of Advent 2020
GOD WHO IS ALMIGHTY AND FATHER
Wednesday, 2nd Week of Advent 2020 (9 December 2020)

Watch Other Daily Mass Below;
Mass Celebrated by Archbishop William Goh
The celebrant for Masses on our channel for Wednesdays to Sundays is Archbishop William Goh.
The Catholic Mass today is celebrated all around the world. Here in Singapore, we are pleased to provide online, daily Catholic Mass live or recorded in English to all Catholics and anyone interested in the Catholic faith. During Catholic Masses, it is not uncommon to hear a homily about Catholic teachings and Catholic answers to life's questions. The Holy Mass is beautiful and stems from Jesus. Expect Catholic prayers, Catholic hymns (Christian songs) that come from 2000 years of tradition and practice.
Catholic Mass Today Online 9th December 2020 By Archdiocese of Singapore
You can read Catholic Daily Mass Reading 9th December 2020 Online
Daily Reading for Wednesday December 9, 2020
Reading 1, Isaiah 40:25-31
Responsorial Psalm, Psalms 103:1-2, 3-4, 8, 10
Gospel, Matthew 11:28-30
Reading 1, Isaiah 40:25-31
25 'To whom can you compare me, or who is my equal?' says the Holy One.
26 Lift your eyes and look: he who created these things leads out their army in order, summoning each of them by name. So mighty is his power, so great his strength, that not one fails to answer.
27 How can you say, Jacob, how can you repeat, Israel, 'My way is hidden from Yahweh, my rights are ignored by my God'?
28 Did you not know? Had you not heard? Yahweh is the everlasting God, he created the remotest parts of the earth. He does not grow tired or weary, his understanding is beyond fathoming.
29 He gives strength to the weary, he strengthens the powerless.
30 Youths grow tired and weary, the young stumble and fall,
31 but those who hope in Yahweh will regain their strength, they will sprout wings like eagles, though they run they will not grow weary, though they walk they will never tire.
Spread the Gospel today. Share this Daily Devotional Message to your loved Ones, friends and families. Thank you and God bless you abundantly. Use the Share Button Below