WATCH LIVE SERVICE
Catholic Mass Today Online 8th December 2020 By Archdiocese of Singapore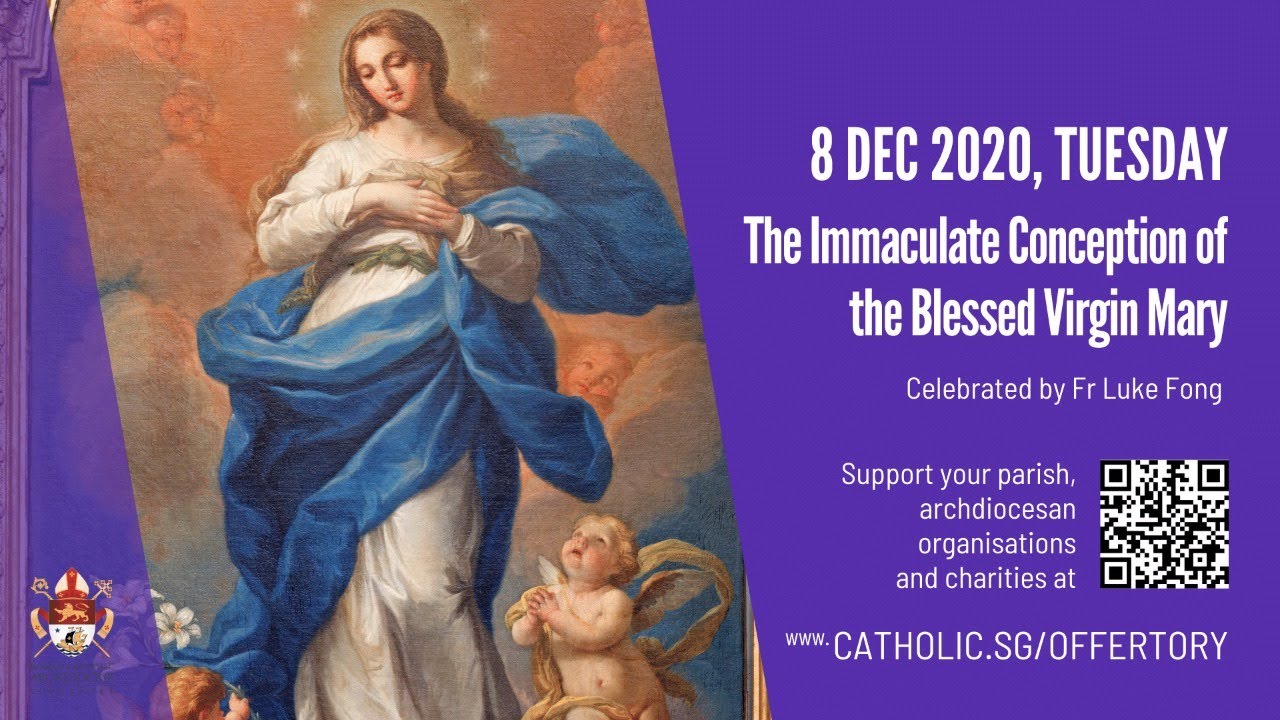 Catholic Mass Today Online 8th December 2020 By Archdiocese of Singapore
You are watching Catholic Weekday Mass Today Online – Tuesday, Immaculate Conception of the Blessed Virgin Mary 2020 by Archdiocese of Singapore.
Tuesday, Immaculate Conception of the Blessed Virgin Mary (8 Dec 2020) Mass Celebrated by Fr Luke Fong at the Church of the Immaculate Heart of Mary, Singapore The celebrant for Masses on our channel for Wednesdays to Sundays is Archbishop William Goh.
Catholic Mass Today Online 8th December 2020 By Archdiocese of Singapore
The Catholic Mass today is celebrated all around the world. Here in Singapore, we are pleased to provide online, daily Catholic Mass live or recorded in English to all Catholics and anyone interested in the Catholic faith. During Catholic Masses, it is not uncommon to hear a homily about Catholic teachings and Catholic answers to life's questions. The Holy Mass is beautiful and stems from Jesus.
Expect Catholic prayers, Catholic hymns (Christian songs) that come from 2000 years of tradition and practice. All are welcome.
Listen via online radio at https://www.catholic.sg/radio/
Watch below;

Watch other Catholic Tuesday Mass Below;
Read Catholic Daily Mass Reading 8th December 2020 Online
Reading 1, Genesis 3:9-15, 20
Responsorial Psalm, Psalms 98:1, 2-3, 3-4
Gospel, Luke 1:26-38
Reading 2, Ephesians 1:3-6, 11-12
Reading 1, Genesis 3:9-15, 20
9 But Yahweh God called to the man. 'Where are you?' he asked.
10 'I heard the sound of you in the garden,' he replied. 'I was afraid because I was naked, so I hid.'
11 'Who told you that you were naked?' he asked. 'Have you been eating from the tree I forbade you to eat?'
12 The man replied, 'It was the woman you put with me; she gave me some fruit from the tree, and I ate it.'
13 Then Yahweh God said to the woman, 'Why did you do that?' The woman replied, 'The snake tempted me and I ate.'
14 Then Yahweh God said to the snake, 'Because you have done this, Accursed be you of all animals wild and tame! On your belly you will go and on dust you will feed as long as you live.
15 I shall put enmity between you and the woman, and between your offspring and hers; it will bruise your head and you will strike its heel.'
20 The man named his wife 'Eve' because she was the mother of all those who live.
Responsorial Psalm, Psalms 98:1, 2-3, 3-4
1 [Psalm] Sing a new song to Yahweh, for he has performed wonders, his saving power is in his right hand and his holy arm.
2 Yahweh has made known his saving power, revealed his saving justice for the nations to see,
3 mindful of his faithful love and his constancy to the House of Israel. The whole wide world has seen the saving power of our God.
4 Acclaim Yahweh, all the earth, burst into shouts of joy!
(Visited 167 times, 1 visits today)