WATCH LIVE SERVICE
Catholic Mass Online 27 January 2021 Live Mass By Divine Retreat Centre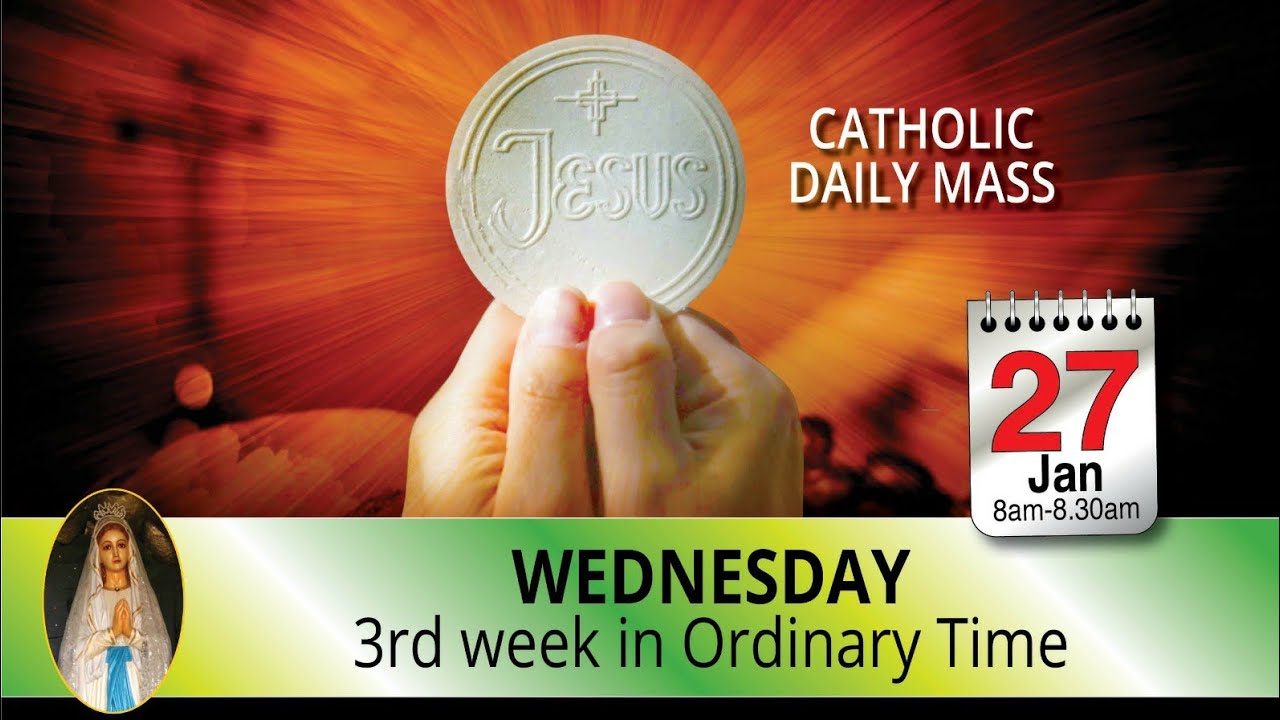 Catholic Mass Online 27 January 2021 Live Mass By Divine Retreat Centre
Holy Mass live streamed daily. Todays Catholic Mass is the 3rd Wednesday in ordinary time.
Daily Reading for Wednesday January 27, 2021
Reading 1, Hebrews 10:11-18
Responsorial Psalm, Psalms 110:1, 2, 3, 4
Gospel, Mark 4:1-20
Watch Today's Mass Below;
Catholic Mass Online 27 January 2021 Live Mass By Divine Retreat Centre
Reading 1, Hebrews 10:11-18
11 Every priest stands at his duties every day, offering over and over again the same sacrifices which are quite incapable of taking away sins.
12 He, on the other hand, has offered one single sacrifice for sins, and then taken his seat for ever, at the right hand of God,
13 where he is now waiting till his enemies are made his footstool.
14 By virtue of that one single offering, he has achieved the eternal perfection of all who are sanctified.
15 The Holy Spirit attests this to us, for after saying:
16 No, this is the covenant I will make with them, when those days have come. the Lord says: In their minds I will plant my Laws writing them on their hearts,
17 and I shall never more call their sins to mind, or their offences.
18 When these have been forgiven, there can be no more sin offerings.
Catholic Daily Mass Reading Wednesday 27th January 2021
Responsorial Psalm, Psalms 110:1, 2, 3, 4
1 [Of David Psalm] Yahweh declared to my Lord, 'Take your seat at my right hand, till I have made your enemies your footstool.'
2 Yahweh will stretch out the sceptre of your power; from Zion you will rule your foes all around you.
3 Royal dignity has been yours from the day of your birth, sacred honour from the womb, from the dawn of your youth.
4 Yahweh has sworn an oath he will never retract, you are a priest for ever of the order of Melchizedek.
Thanks and God bless for watching Catholic Mass Online 27 January 2021 Live Mass By Divine Retreat Centre
(Visited 65 times, 1 visits today)