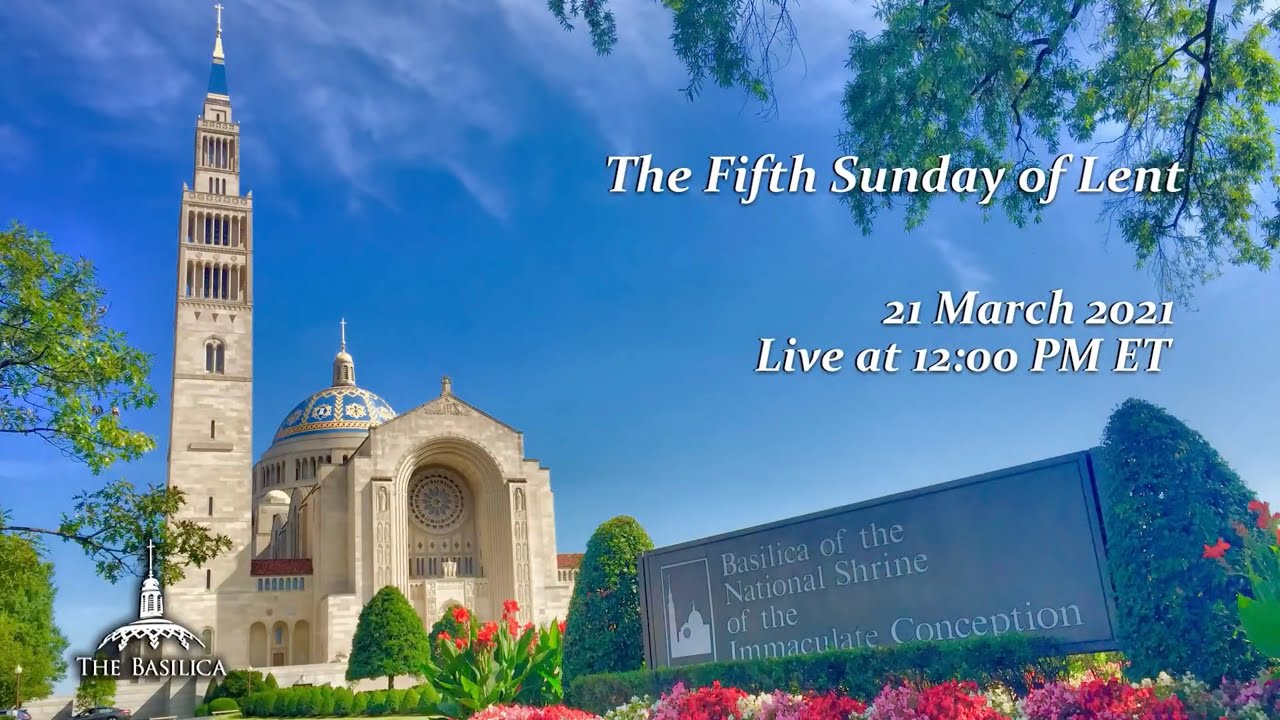 Basilica Sunday Mass Livestream 21 March 2021 – Fifth Sunday of Lent
Basilica Sunday Mass Livestream
5th Sunday of Lent
March 21, 2021
Daily Reading for Sunday March 21, 2021
Reading 1, Jeremiah 31:31-34
Responsorial Psalm, Psalms 51:3-4, 12-13, 14-15
Gospel, John 12:20-33
Reading 2, Hebrews 5:7-9
Basilica Sunday Mass Livestream 21 March 2021 – Fifth Sunday of Lent
Reading 1, Jeremiah 31:31-34
31 'Look, the days are coming, Yahweh declares, when I shall make a new covenant with the House of Israel (and the House of Judah),
32 but not like the covenant I made with their ancestors the day I took them by the hand to bring them out of Egypt, a covenant which they broke, even though I was their Master, Yahweh declares.
33 No, this is the covenant I shall make with the House of Israel when those days have come, Yahweh declares. Within them I shall plant my Law, writing it on their hearts. Then I shall be their God and they will be my people.
34 There will be no further need for everyone to teach neighbour or brother, saying, "Learn to know Yahweh!" No, they will all know me, from the least to the greatest, Yahweh declares, since I shall forgive their guilt and never more call their sin to mind.'
Join us live from the Basilica of the National Shrine of the Immaculate Conception on Sunday, March 21st at 12:00 PM ET as we celebrate the holy Sacrifice of the Mass on the Fifth Sunday of Lent. Our Catholic Sunday Mass livestream features sacred liturgical music by the Choir of the Basilica of the National Shrine of the Immaculate Conception.
The Mass is the greatest act of Evangelism the Church can offer the world. Our Sunday Catholic Mass livestream continues today due to God's grace and the generosity of our viewers. If you would like to support the mission and ministry of Mary's Shrine during the coronavirus pandemic.
The Basilica of the National Shrine of the Immaculate Conception in Washington D.C., is America's Catholic Church, a National Shrine dedicated to the Blessed Mother, patroness of our nation. It is a prayerful house of worship, pilgrimage, evangelization, and reconciliation. Mary's Shrine invites people from across the country and beyond to share in Christ's ever-living Presence through the companionship and love of His Mother.
Thank you for prayerfully watching the Mass at the Basilica and participating in our virtual ministry!(Basilica Sunday Mass Livestream 21st March 2021 – Fifth Sunday of Lent)
Spread the Gospel today. Share this Daily Devotional Message to your loved Ones, friends and families. Thank you and God bless you abundantly. Use the Share Button Below