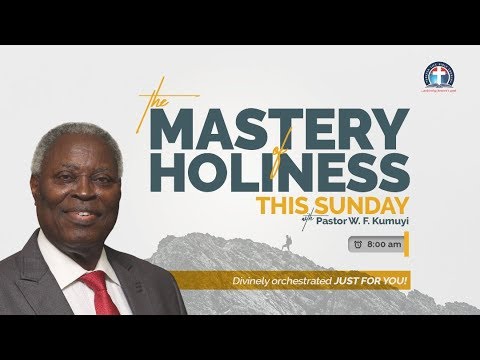 Deeper Life Live Sunday Worship Service 26 July 2020
Join the Deeper Life Live Sunday Service 26th July 2020 with Pastor W.F Kumuyi, the General Superintendent of Deeper Christian Life Ministry. (Please reload for fresh update)
You can Read DCLM Daily Manna for 26th July 2020
TOPIC: A Hard Truth
KEY VERSE:
"I spake also to Zedekiah king of Judah according to all these words, saying, Bring your necks under the yoke of the king of Babylon, and serve him and his people, and live." – (Jeremiah 27:12)
MESSAGE: Sometimes we are faced with hard truths about life. The outcomes of some situations we encounter depend on the appropriateness or otherwise of our actions at such times.
King Zedekiah in our text was handed a difficult prophecy by Jeremiah. The counsel of God and that of the prophet was explicit; requiring the king to surrender voluntarily to the king of Babylon like Jeconiah the son of Jehoiakim, king of Judah had earlier done.
This was the only panacea to Judah and Jerusalem not to be destroyed by the Babylonian army. While Zedekiah pondered on what to do about this prophecy, the false prophets, rebellious priests and proud princes of Judah pressurised him not to listen or obey the words of Prophet Jeremiah. They even conspired to put the prophet to death but for the intervention of few God-fearing princes among them.
We must learn to obey God and His word no matter how difficult it may be. "The fear of man bringeth a snare: but whoso putteth his trust in the LORD shall be safe" (Proverbs 29:25). King Zedekiah halted between opinions and delayed taking the right decision that could have saved his life, that of his people and the city of Jerusalem. Of course, the Babylonians eventually came against Judah and demolished it; they also killed the princes, nobles, the priests, the children of the king in his presence, plucked out the king's eyes and carried him away into exile where he later died. Obedience to God's word and counsel saves us from heartaches and regrets.
THOUGHT FOR THE DAY:
Obey God's word and live!
THE BIBLE IN ONE YEAR:
2 Chronicles 30-33
Deeper Life Live Sunday Worship Service 26 July 2020 with Pastor W.F Kumuyi
(Visited 39 times, 1 visits today)