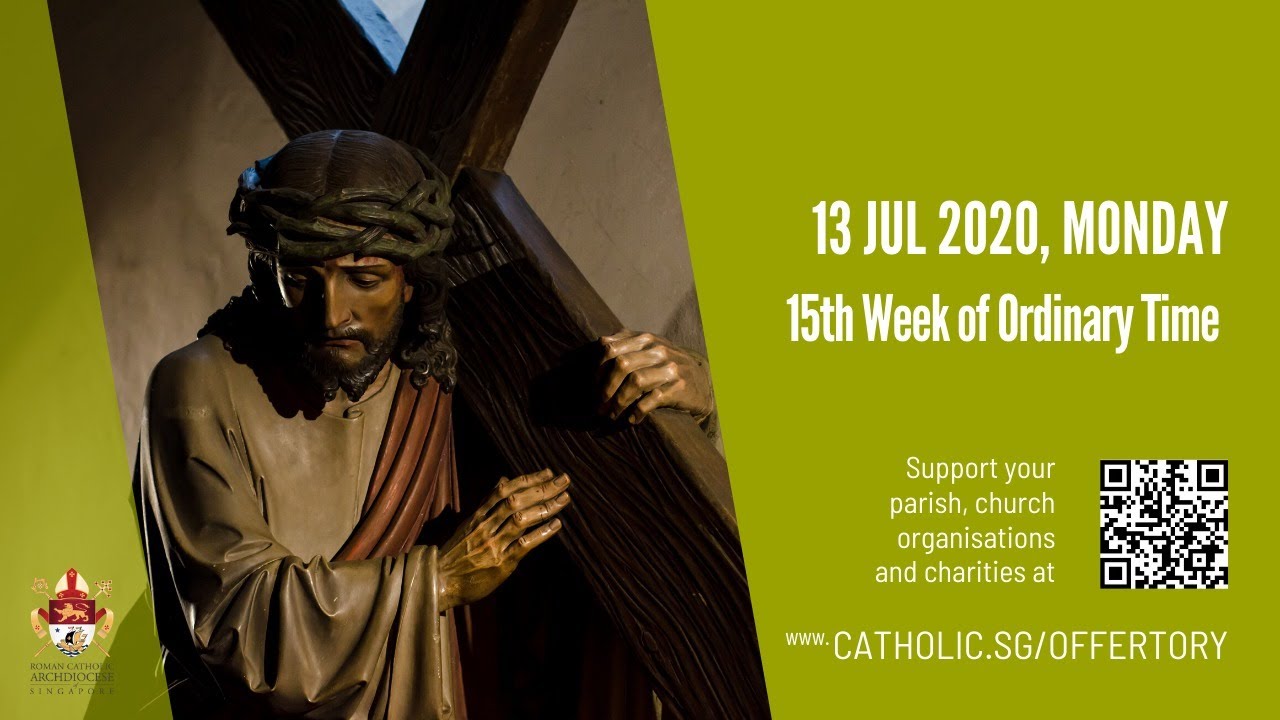 Catholic Mass Today Online Monday 13 July 2020 Singapore
THE SACRIFICES OF A MISSIONARY DISCIPLE
Monday, 15th Week of Ordinary Time (13th July 2020)
The Catholic Mass today is celebrated all around the world. Here in Singapore, we are pleased to provide online, daily Catholic Mass live or recorded in English to all Catholics and anyone interested in the Catholic faith. During Catholic Masses, it is not uncommon to hear a homily about Catholic teachings and Catholic answers to life's questions. The Holy Mass is beautiful and stems from Jesus. Expect Catholic prayers, Catholic hymns (Christian songs) that come from 2000 years of tradition and practice. All are welcome.
Listen via online radio at https://www.catholic.sg/radio/
Watch below
Catholic Mass Today Online Monday 13 July 2020 Singapore
You may read Catholic Daily Mass Reading Monday 13 July 2020
Reading 1: Isaiah 1:10-17
Responsorial Psalm: Psalms 50:8-9, 16-17, 21, 23
Gospel: Matthew 10:34–11:1
Reading 1, Isaiah 1:10-17
10 Hear what Yahweh says, you rulers of Sodom; listen to what our God teaches, you people of Gomorrah.
11 'What are your endless sacrifices to me?' says Yahweh. 'I am sick of burnt offerings of rams and the fat of calves. I take no pleasure in the blood of bulls and lambs and goats.
12 When you come and present yourselves before me, who has asked you to trample through my courts?
13 Bring no more futile cereal offerings, the smoke from them fills me with disgust. New Moons, Sabbaths, assemblies — I cannot endure solemnity combined with guilt.
14 Your New Moons and your meetings I utterly detest; to me they are a burden I am tired of bearing.
15 When you stretch out your hands I turn my eyes away. You may multiply your prayers, I shall not be listening. Your hands are covered in blood,
16 wash, make yourselves clean. Take your wrong-doing out of my sight. Cease doing evil.
17 Learn to do good, search for justice, discipline the violent, be just to the orphan, plead for the widow.
Responsorial Psalm, Psalms 50:8-9, 16-17, 21, 23
8 'It is not with your sacrifices that I find fault, those burnt offerings constantly before me;
9 I will not accept any bull from your homes, nor a single goat from your folds.
16 But to the wicked, God says: 'What right have you to recite my statutes, to take my covenant on your lips,
17 when you detest my teaching, and thrust my words behind you?
21 You do this, and am I to say nothing? Do you think that I am really like you? I charge you, indict you to your face.
23 Honour to me is a sacrifice of thanksgiving; to the upright I will show God's salvation.'
(Visited 39 times, 1 visits today)